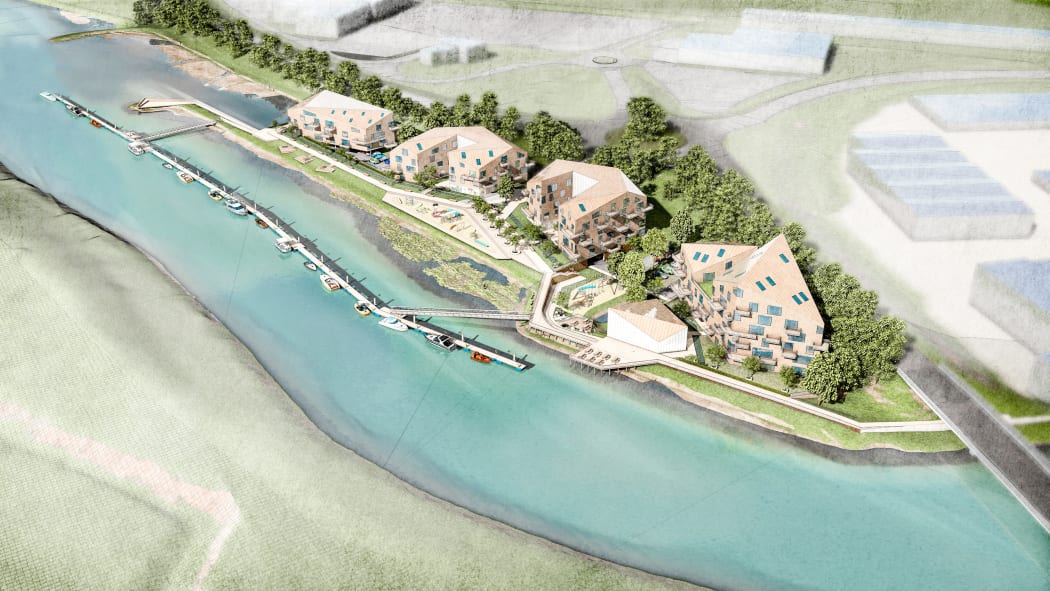 This transformative scheme will create a landmark development comprising 105 riverside apartments, leisure moorings, riverside walks, cycle paths, commercial/leisure space and a restaurant/café.
Sociable Architecture
The scheme embraces Stolon's Sociable Housing mantra, incorporating riverside shared courtyards and kitchens to promote better social cohesion amongst residents and businesses. The apartments are designed to provide for all generations, with a mix of units that cater for individuals, young families through to retirees.
Transport
The scheme will re-establish an active river frontage, with leisure craft moorings north of the A259, additional stops for the Littlehampton Ferry and providing a vibrant publicly accessible landscape marking the edge of the town.
New cycle paths and public and footpaths will allow access to the riverside and help to create connections between parts of the town that are divided by main roads.
Ecology and Biodiversity
The proposal enhances the existing biodiversity of the site, transforming a disused and once polluted site into a development interwoven with nature. In addition to protecting the inter-tidal salt-marsh habitat to the North of the site, there are plans to create new habitats throughout the site. New features such as a publicly accessible bird hide will help create a connection between people and nature and foster a sense of stewardship.

Flood resilience and adaptation
The scheme incorporates a combination of measures to tackle flooding and climate change. New river defences are planned to protect the site from a 1 in 200 flood plus allowing for sea level rise. These are cleverly disguised by a new landscaped podium deck that elevates the living accommodation and the public realm above this level, allowing views over the river. The car-parking, bins and bike stores are set below the landscaped deck, out of sight.
The sustainable drainage system is an integral part of the design, creating blue/green corridors on the doorstep of the properties to store rainwater on site before slowly releasing into the landscape.